Two iconic contenders in perfect shade realm are Essie Ballet Slippers and OPI Bubble Bath. Both of these popular nail polish shades boast soft pink tones, yet exhibit subtle differences that create a significant impact on their final appearance.
Essie Ballet Slippers is best described as a white nail polish with hints of pink, whereas OPI Bubble Bath showcases itself as a light peachy pink nail polish. Their contrasting colors make the choice between these two classics an engaging debate for nail lovers. Interestingly, Essie Ballet Slippers contains slightly less product in the bottle, 0.46oz compared to OPI Bubble Bath's 0.5oz.
Essie Ballet Slippers vs Opi Bubble Bath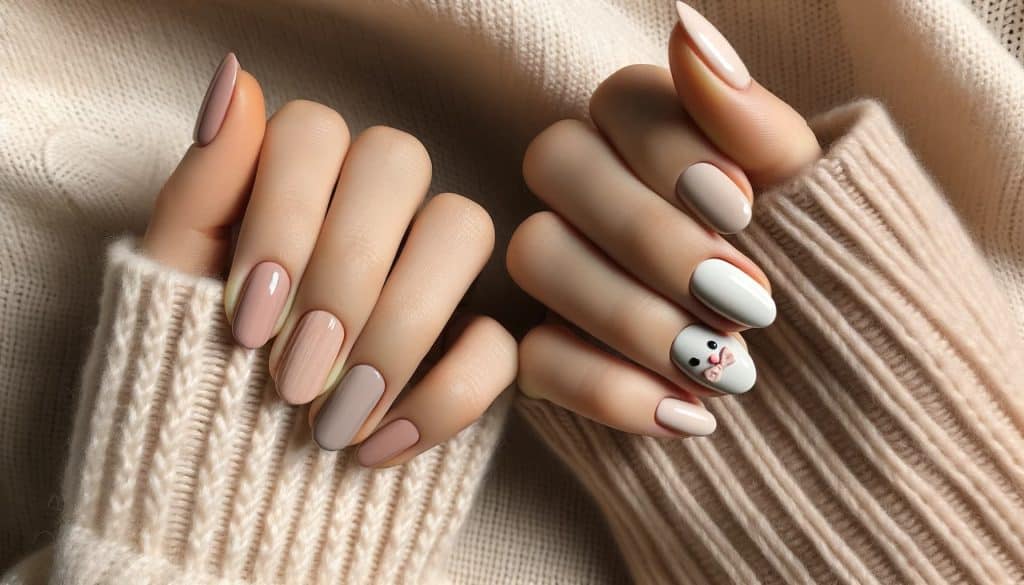 Formula
The formula of both nail polishes varies slightly, with Essie Ballet Slippers being popular for its delicate touch and OPI Bubble Bath known for its long-lasting finish. Both nail polishes are of high quality, providing smooth and consistent application. Essie Ballet Slippers is a white-based nail polish with subtle pink undertones, while OPI Bubble Bath leans more towards a light peach-pink color. Both polishes are cruelty-free and have a reputation for providing excellent finishes.
Opacity
When it comes to opacity, Essie Ballet Slippers and OPI Bubble Bath offer different levels of coverage. Essie Ballet Slippers is more on the sheer side, often requiring multiple layers to achieve full opacity. This might be ideal for those looking for a more natural look. On the other hand, OPI Bubble Bath offers a more semi-sheer finish, with better coverage after just one or two coats. This makes OPI Bubble Bath suitable for those who prefer a slightly more opaque finish without being too bold.
Top Coat
Using a top coat with both Essie Ballet Slippers and OPI Bubble Bath is highly recommended to enhance their staying power and achieve a professional-looking finish. A top coat can also help in preventing chips and smudges, ensuring that the nail polish lasts longer. For both polishes, it is important to allow sufficient drying time between layers to avoid any unwanted texture or bubbles. Once the final coat of polish dries, apply a top coat of your choice to seal and protect the color, resulting in a longer-lasting, high-shine manicure.
Manicure and Layering Techniques
When discussing the differences between Essie Ballet Slippers and OPI Bubble Bath nail polishes, it is essential to consider the application techniques involved in achieving the perfect manicure. While both polishes have their unique qualities, understanding the proper manicure process and layering techniques can greatly impact the final result.
Layering
To create a flawless manicure, layering plays a crucial role. In the case of Essie Ballet Slippers, it is a sheer polish with a satiny finish. It is recommended to apply the first coat and let it dry for five minutes before applying the second one, allowing for a more even and opaque look. On the other hand, OPI Bubble Bath has a thick base and glossy finish. When applying, it is essential to swipe the brush to avoid excessive polish build-up on your nails, as it can affect the overall appearance. The high shine finish of OPI Bubble Bath can be achieved with multiple thin layers.
Considering the differences in formulas and finishes, it is important to tailor the layering technique to suit each nail polish. Regardless of whether you prefer Essie Ballet Slippers' satiny elegance or OPI Bubble Bath's glossy charm, implementing the appropriate layering and manicure techniques can make a world of difference in achieving flawless, long-lasting results.
Essie Ballet Slippers Features
Gel Couture
Essie Ballet Slippers is a classic nail polish color that has been popular for many years due to its versatile and timeless nature. This innovative formulation offers long-lasting wear and a high-shine finish, making it perfect for those who want their manicure to last for a longer period. The Gel Couture version of Ballet Slippers offers the same beautiful soft pink hue, but with added benefits like superior durability and a luxurious glossy finish.
Lilac Tone
Another unique aspect of Essie Ballet Slippers is its subtle lilac tone. While some might describe it as a classic pale pink, upon closer inspection, one can notice a slight lavender undertone. This lilac tone adds a touch of uniqueness to the color, making it stand out from other similar shades in the market. The delicate balance between the pink and lilac tones make Ballet Slippers a versatile color that can complement various skin tones and styles.
In summary, Essie Ballet Slippers is a classic nail polish color with unique features such as its Gel Couture formulation and subtle lilac tone. These characteristics make it a popular option for those seeking a timeless and versatile shade that can suit any occasion.
Opi Bubble Bath Features
Soft Shades Collection
Opi Bubble Bath is part of the Soft Shades Collection. This collection comprises delicate and sophisticated shades, tailored for those looking for a more subtle polish. Its smooth application and long-lasting nature make it a popular choice for nail polish enthusiasts. The versatility of Opi Bubble Bath lends itself well to various occasions, from everyday wear to special events.
As part of the Soft Shades Collection, this polish promises an elegant look with an understated touch. The formula is designed to provide a clean, even finish that is resistant to chipping, fading, and peeling. Opi Bubble Bath promotes healthy nail growth while offering a low-maintenance solution to nail color.
Purple Hue
Opi Bubble Bath has a light peach pink appearance that some may describe as having a slight purple hue. This subtle shade lends itself well to various skin tones and personal styles. The polish provides a creamy, opaque finish that can be built upon with additional coats for fuller coverage if desired.
The slight purple tone adds a hint of color without being too bold or overwhelming. This shade offers a touch of sophistication and elegance, making it an excellent choice for those looking for a versatile polish that can be worn in a variety of settings.
When it comes to choosing between Essie Ballet Slippers and OPI Bubble Bath, it primarily comes down to personal preference. Both of these nail polishes are renowned for their elegance, versatility, and lasting impressions.
Essie Ballet Slippers is characterized by its subtle, sheer finish and pale pink color with a white-beige undertone. This classic polish is a favorite among fashion stylists and manicurists, and is suitable for all seasons. On the other hand, OPI Bubble Bath has a light peach pink hue and features a high-performance formula with a glossy finish. While it dries to a semi-matte appearance, the shine can be enhanced with a topcoat or additional layers of the polish.
In terms of wear, some manicurists believe that Essie's Gel Couture formula has a longer-lasting effect compared to OPI's Infinite Shine. However, this may vary depending on individual application techniques and nail care habits.